Robyn Gleeson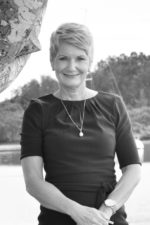 Managing Director
Licensed Real Estate Agent and Stock & Station Agent

Robyn Gleeson, born and raised in the Hastings area, started in the real estate sector in 1997. Within just 5 years into her real estate career she had established herself as a director at Elders Real Estate, Port Macquarie.
Often called on to speak at industry conferences around Australia, Robyn's profile is high, as is the esteem in which she is held by her peers.
Her methodical and composed approach has lent itself successfully to orchestrating thorough and effective systems and procedures that have maintained a united sense of focus among the large team and across the whole business.
Robyn can attribute much of her composure and energy to her practice of yoga and to Body Balance classes. These qualities are enhanced by her instinctive drive, conscientiousness, dynamism and the ability to maintain a clear mind and find solutions - even in the most testing of circumstances.
Married to Terry, with two grown-up daughters, Robyn has also relished the role of grandmother since 2009. She makes time to indulge in her passions for the outdoors, music and travel.
02 6566 0306
02 6566 0546
0438 681 224